​Recurring Cleaning Services

/

Deep Cleaning Services

/

Move In/Move Out Cleaning Services
Recurring Cleaning Services Include:

A customized housekeeping plan is designed for every home we service!
Our recurring services are scheduled to fit your needs. You can choose weekly, bi-weekly or monthly. The more frequent your services the higher your savings!
These services include but are not limited to:
all kitchen counter tops, cabinet faces, and stove tops
the microwave and all small appliances wiped
toilet, sink and shower scrubbing
dusting off all furniture and knickknacks
celing fans
all mirrors cleaned
all floors swept, mopped and/or vacuumed
beds made and/or bed sheets changed​
Deep Cleaning Services Include: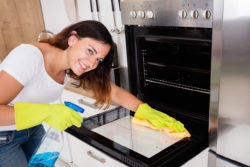 Our deep cleaning service are available on their own, or as part of our recurring packages.  The definition of a deep cleaning can be described as the need to "scrub" versus wipe a surface.  Deep cleaning extras also include places that are often overlooked.  Examples can include:
the inside of the refrigerator
the inside of the oven
washing of baseboards throughout the home
windows and windowsills
garbage cans
ceiling fans and high hats wet wiped
blinds and window dressings wet wiped
air conditioner facets​​
Move In/Move Out Cleaning Services Include:

inside and outside of kitchen cabinets
all appliances, including refrigerator and oven.
all moldings, ceiling fans, light fixtures and baseboards
all bathrooms
interior windows and windowsills
all floors
all closets and built-in shelving
Next Steps…
Sit back, relax and leave the cleaning to us!